Simple question for you experienced heads on here,
One of my first buys was this 20 y/o forward who I've had down as my long-term Number 8. Here's his stats: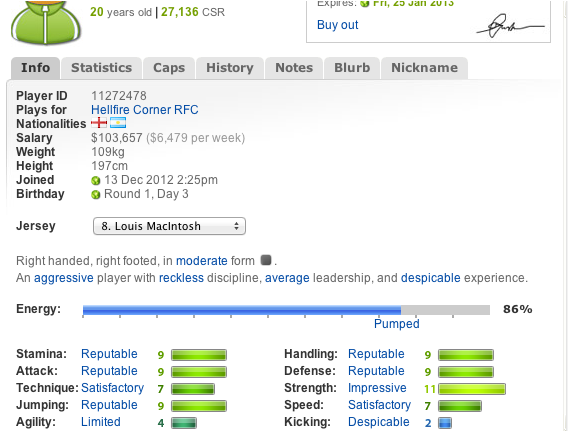 (just off topic, if anyone thinks he'd be better suited playing elsewhere do say, I think he'd be a good No.8 but also a tasty 2nd row)
As you can see, he's not in the best of form. I did pay a fair amount for him (I won't say as tbh I think I overspent for what I got

) and I want to play him as much as possible, but in his first 2 games (Thursday friendly and league game) he's played well below par - 2 1/2 - 3 stars each time. And that's listed as to potential. So what's the best way to get a player back in form - keep playing them and let them play themselves back into form, or rest them?
(Also on another aside, does discipline ever improve at all, or is it only leadership and experience that pops?)
Thanks folks

Nothing to be done as regards form, it'll drift of its own accord. Though there should be some balance across the whole of your squad in terms of players being at different levels of form.

Discipline is a fixed, as is leadership.

Experience can pop, and that along with technique is what your player needs more of to play better and gain more star ratings in the back row.
Admin




Posts

: 2398


Join date

: 2011-10-13


Location

: escaped from a maximum-security stockade to the Los Angeles underground



Got it, so it makes no difference if I play him or drop him? I'll probs keep playing him then for experience and IGT and hope his form picks up soon.

I've got him individual training on technique at the moment, had a friendly on Thursday and the whole back row got smashed at the breakdown and coughed up 13 turnovers total :/ But they are all young and have low experience, so I'm planning on keeping them in for the long haul. The two flankers have better technique ratings too.


Train him if you want for now. But I'd be looking for a better prospect to train than a low skilled 20 year old. If he was 17 with those skills he'd be ideal to train, and really with some patience such a 17 year old can be gotten fairly cheaply off the TM
Admin




Posts

: 2398


Join date

: 2011-10-13


Location

: escaped from a maximum-security stockade to the Los Angeles underground



Just to add, I'd be reticent to pay money for an aggressive reckless forward. One or the other maybe as an exception but both poses broader problems



Posts

: 280


Join date

: 2011-10-12





Similar topics
---
Permissions in this forum:
You
cannot
reply to topics in this forum