Hey guys,
I can`t decide on which locks to field in my team,
my tallest guys have only 12,000 csr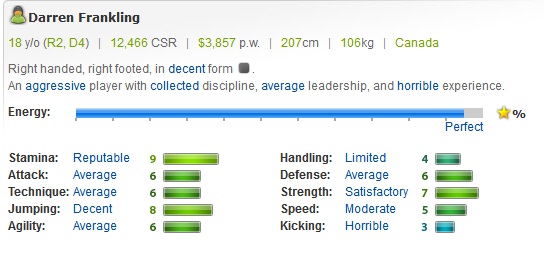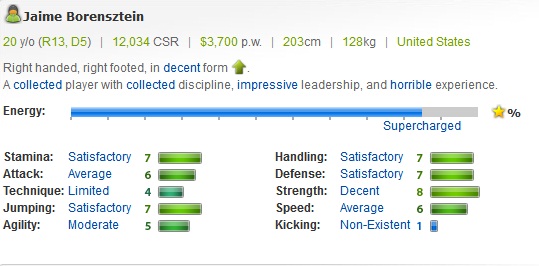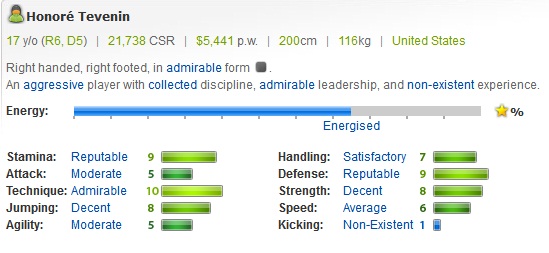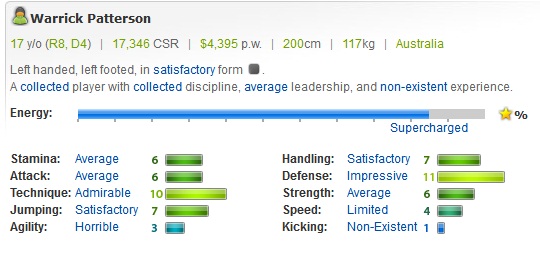 Tevernin gets by far the best reporter score at 4 stars the rest are at 2.5, I have recently been using tevernin and patterson which has improved my rucking i believe.
I could take the plunge and use franklin and borenstein pushing tevernin to the back row and try to give them a few nets to bring them along for their nice untrainables but I am unsure as to weather they will ever catch up.
Any thoughts guys:)
As you know locks are mega expensive to buy.
i would give franklin and borenstein a few nets and slot tevernin in
a t no.6 mate

having 207cm and 203cm locks will be great with training



Posts

: 3189


Join date

: 2011-10-14



Congrats on your appointment mate:)
I am gonna go for it,
Borestein and Franklin are in on 4 nets each.
My rebuild is over, I should be able to retain in league IV

And I have 135k left to try to push through with lvl 3 Facilities in 4 weeks time.
I made 5k last week with no match revenue too, will have to see what happens with my stadium upgrade and increased trainer and facilities costs after the 11th.
Hopefully I can turn a profit without selling out players.
You might need to offload one/two players a season for the next 2-3 seasons. Try and target those that are only getting TT, won't be of too much use to you, will be getting old soon.

And then list them after prize money is awarded.

As you're training players, and perhap making the odd purchase, you'll need to trim the squad anyway. Having a plan as to the shape your squad should take will likely do more for you than a snap last minute decision/gamble on the TM

Admin




Posts

: 2396


Join date

: 2011-10-13


Location

: escaped from a maximum-security stockade to the Los Angeles underground



Hey Quind,
I bought in some old boys 29 to 33 to up my team csr,
I`m thinking they seem to go backwards in csr around 33/34,
maybe sooner although I have not yet witnessed that myself.

I`m hoping to swap them out later in the year or maybe after winnings is paid, I dont expect them to have any resale value but the wage decrease will help.

Maybe I will try to out some once I hit lvl 3 fac, so that I can afford to hire trainers, I am not against selling the old boys and recruiting a new batch of 17 y/o around round 14/15 maybe sooner.

All speculation from me as I am new to this league, I have kept my best nine 17/18 y/o and franklin who is 19 my thinking is that once I hit lvl 3`s I will prob want a new intake of 17 y/o to make the most possible benefit from my trainers?

Maybe I will sell everyone, hire some utter cack and try to roll on into lvl 4`s, If that was even a remote possibility it would probably be my plan:)

I will be better able to plan for the future once we get a few games in and I have a better grasp of my finances and opposition but I am optimistic.

Thanks for all your help mate:)


Similar topics
---
Permissions in this forum:
You
cannot
reply to topics in this forum