Hi, new to the offsite...
Only want to part with this player if it's worth it financially, but it's hard to gauge how much he is worth as he is only at 107k CSR, with Marvelous kicking (he's 25 y/o) I've got a better rounded player to fill his shoes at grand kicking. Any guideline would be great thanks, having a big reshuffle at the start of this season, and he just doesn't fit in particularly well/seems like a good option to make $$$.
As you'll see, skills a bit all over the place. He came out of my academy in a period where I didn't log in for a few seasons, only really got back into it the past 2 seasons, surprised his kicking got that high considering my lack of attention....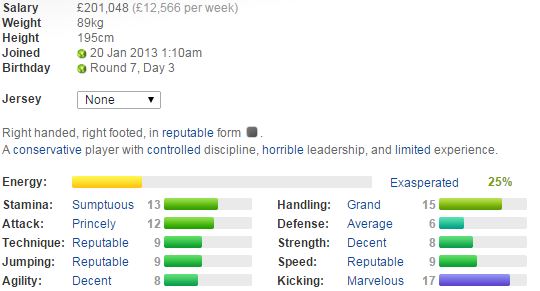 Thanks!



Posts

: 2


Join date

: 2015-04-18



I reckon about £102,000 which is what I bought him for.

He will do a decent job for my affiliate team for a few seasons as he replaces a 30 y/o kicker.

I was quite pleased to pick him up so cheap - would have expected to pay closer to £200k - but was lucky that his auction ended at a time when there weren't many people online (about 1am our time).



Posts

: 75


Join date

: 2012-07-12


Age

: 35


Location

: Kidderminster



At least I know he's gone to a good home! I made the mistake of not paying attention to times etc, I'm a bit of a night owl.

I started too high the first auction, dropped low the second time in the hope bidding would take it up, with people flush at the start of the season. But 100k was the minimum I wanted/needed, made more sense for me to give up a couple of skill points on kicking, to use my better rounded alternative for the season.

I've just built my first affiliate squad, have been amazed at the bargains that can be had if you're there at the right time....



Posts

: 2


Join date

: 2015-04-18



As you have premium, you could always set the sale deadline for a time when more people are online to increase your chances of getting a higher offer. I tend to find that Saturday evenings are best - just after league games have finished - as a) more people are online to check their league match results, b) everyone playing at home will have had a bit of a cash boost so may be more inclined to buy someone and c) anyone who is at work/college/school during the week probably has a better chance of being online at the weekend.
If not Saturday, Monday evenings tend to be a decent time to end your player auction too as those who play Monday night friendlies are more likely to be online and some may look to pick up a player just before they lose some cash when the weekly finances are updated.
Having said that, yes there are plenty of bargains out there at the moment. I have found the TM to be slower than normal at this time of the season, perhaps there are more managers waiting for 17 year old u20 prospects to be listed before they look to buy slightly more experienced guys.
Being a night owl should stand you in good stead when it comes to hunting for TM bargains




Posts

: 75


Join date

: 2012-07-12


Age

: 35


Location

: Kidderminster




---
Permissions in this forum:
You
cannot
reply to topics in this forum